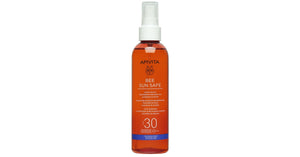 This sun body oil offers safe protection, while helping develop a golden tan that is luminous and long lasting. With its silky, nourishing texture, it cares for the skin and leaves it soft, hydrated and beautifully scented.
• Provides broad-spectrum UVA &  UVB protection with a combination of photo-stable sun filters.
• Enhances and highlights the natural tan of the skin with carrot extract.
• Moisturizes and nourishes the skin in depth with olive and sunflower oil.
• Provides antioxidant protection with lycopene and vitamin E.
BEE SUN SAFE sunscreens respect the skin and the marine ecosystem. They feature clean formulas that include biodegradable ingredients and do not include sun filters that are harmful to corals. We use responsible packaging, with recycled and recyclable materials.