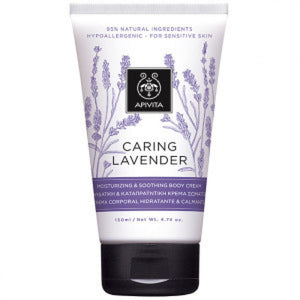 The moisturizing and soothing CARING LAVENDER body cream soothes sensitive skin instantly, moisturizes and nourishes the skin in depth. It can also be used for the care of the atopic skin (eczema).
With Lauryl Olivate which provides instant relief for the itching, burning and stinging skin.
With Greek lavender extract*, allantoin a-bisabolol, known for their anti-inflammatory and soothing properties.
With a moisturizing complex of Greek thyme honey, bio-active aloe* and provitamin B5 (panthenol) that provide instant and intense moisturization, enhancing the skin's hydrolipidic film.
With beeswax*, shea butter*, almond oil and Greek olive oil* that nourish and protect the skin.
Patented infusion of a combination of 3 sideritis species* and vitamin E that provide enhanced antioxidant protection.
Hypoallergenic - Instant Soothing Effect from Itching - Intense Moisturisation - Nourishment