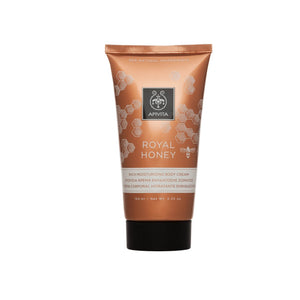 Rich texture cream for moisturization and nourishment, ideal for dry skin, with the unique attributes of thyme honey. It leaves the skin exceptionally soft with a unique scent.
A Greek thyme honey and hyaluronic acid moisturizing complex, hydrates and nourishes the skin.
Olive and almond oil, beeswax, shea and cocoa butter, moisturize and maintain skin elasticity.
Aloe, vitamin E, panthenol and organic lavender extract from APIGEA enhance the moisturizing effect and protect against irritation.
Organic essential oils of orange and rose provide additional moisturizing and antioxidant action.
The fruity and floral aroma leaves the skin subtly scented.
Excellent texture that spreads and absorbs easily.
Water in this composition has been replaced by an antioxidant witch hazel infusion.
98% Natural Origin - Rich Moisturization & Nourishment - Elasticity & Protection - Subtle Scent