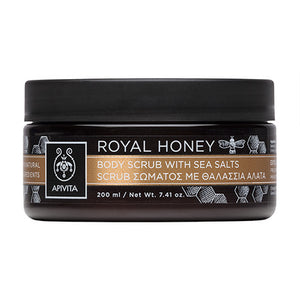 Body Scrub with salts from the Dead Sea and Messolonghi, Greece that gently removes dead cells to reveal new skin.
The Greek sea salts from Messolonghi and the Dead Sea salts gently and physically remove dead cells, while the organic propolis extract contributes to the product's cleansing action.
Thyme honey, cocoa butter, almond oil and olive oil nourish the skin, leaving it extremely soft and velvety.
Organic lavender extract from APIGEA and Vitamin E moisturize, protect and relieve irritation.
Organic essential oils of orange and rose, boost mood and provide additional moisturizing and antioxidant action.
The fruity and floral honey fragrance leaves a subtle scent on the skin.