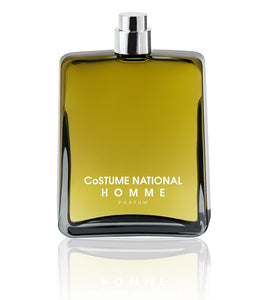 HOMME Parfum interprets perfection in a sophisticated style; an aesthetic balance in which creative avant-garde meets the purity of modern lines in sensual harmony.
The freshness of the citrus notes of grapefruit and bergamot oil combine in perfect harmony with the spicy extract of the LMR cardamom. 
In the heart, the essence combines the intensity of the LMR cinnamon with the extract of a trio of different types of LMR vetiver and mellows it with the delicate notes of the LMR patchouli oil. 
A woody cocktail of musk, sandal and LMR cistus labdanum accentuates the depth of the fragrance, creating a harmonious warm accent right through the base notes. This is an authentic celebration of the eclectic soul of the modern man.