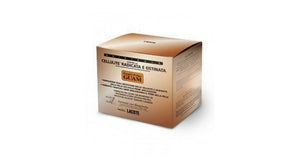 Formulated with maximum levels of advanced natural ingredients, this Concentrated Guam Seaweed Mud Body Wrap is guaranteed to tackle even the most stubborn, deeply rooted cellulite and fatty tissue under the skin. This extra heating body wrap is a potent antioxidant-rich blend of whole dried Guam Seaweed, triple-strength Seaweed Phytoextract, penetrating all-natural Botanical Essential Oils, and Mineral-rich Marine Clay. Best for strong cellulite tolerant to other treatments.
For millions of Italian women, This Guam Body Wrap is an essential beauty routine and their secret for youthfully firm, even skin. It's known as one of the most extraordinarily unique and effective at-home cellulite treatments in the world. 
Clinical studies  show that the regular application of Guam Seaweed Mud shrinks thigh circumference by up to 2.5 cm.
Directions for use :
Mix jar well before use. Apply Guam Seaweed Mud Body wrap evenly to the affected areas with a light motion.
Wrap with kitchen cling film. Leave for 45 minutes. Rinse with warm water in a shower or sink.
Body Wrap Benefits:
Reduces cellulite on legs and thighs
Breaks down fatty tissue
Rejuvenates and repairs cells
Strengthens body skin elasticity and tone
Fights skin-damaging free radicals
Tightens body skin with just one application