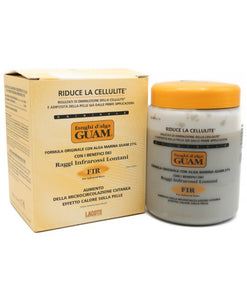 Proven to noticeably reduce cellulite on legs, thighs, and buttocks in just a few treatments, this highly potent heating formula harnesses the power of Guam Algae, Black Tourmaline, Marine Extracts, and European Botanicals to firm and tone so you can always feel confident in your skin.
GUAM Cellulite Body Wrap with Seaweed is one of the top at-home anti-cellulite treatments in the world. Used by over a million Italian women, it delivers unparalleled results, fast. Clinical studies show that a regular application of Guam Seaweed Mud shrinks thigh circumference by up to 2.5 cm.
Infrared Body Wrap Benefits:
Immediate cellulite reduction on legs and lower body
Smooths away dimpled "orange peel" imperfections
Minimizes stubborn fatty tissue with Infrared Heat
Instantly tones and tightens skin
Slims circumference of thighs, legs, buttocks
How it Works:
Guam's advanced Infrared anti-cellulite mud body wrap uses your skin's natural heat to quickly and effectively reduce fat deposits and cellulite on legs and buttocks. The secret is Black Tourmaline – insulated with ventilated clay, this finely micronized mineral captures body heat and reflects it back as Far Infrared Rays (FIR).
As the cell-activating FIR work from the surface of your skin and penetrate down into the tissue underneath, they stimulate healthy cell metabolism, boost microcirculation, repair inflammation, and strengthen elasticity for instantly tighter, smoother skin.
This cutting-edge tourmaline technology works alongside Guam Seaweed Mud body Wrap to achieve professional-grade cellulite removal in an easy-to-use home cellulite treatment. Carefully tested and perfected for more than 30 years, this exceptional formula blends Mineral-rich Marine Clay, rejuvenating 21% Seaweed concentrate, and nourishing Essential Oils proven to revitalize and transform your skin with every use.