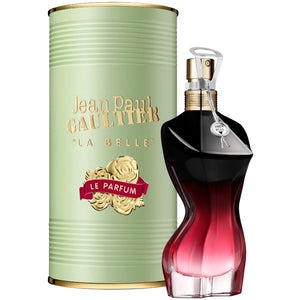 Jean Paul Gaultier La Belle Le Parfum Intense EDP is an intense and not least water-forming fragrance, which is another fantastic part of the garden of Gaultier series.
This intense edition is for the feminine, iconic and sensual woman who loves luxury, elegance and mystery. The beautiful vial shaped like a female body, dark at the top, and deep red at the bottom, as a symbol of the forbidden fruit in the Garden of Eden.
If you are the brave type who does not let herself be decided, who loves excitement, and who lets you get carried away by adrenaline rush, then this is a sure winner. This is because it contains notes from, among other things, green pears, flowering jasmine, deep tonka beans, as well as seductive and sweet vanilla. An irresistible composition that can make your surroundings ring up completely and will make you the center of the room with a little spice.