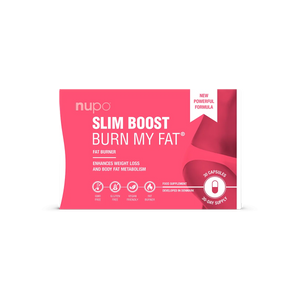 Slim Boost Burn My Fat sets your fat burning in motion with carefully selected extracts from nature's own sources; Yerba Mate and cola nut – for you who wants to boost your fat metabolism during inactive periods.
Slim Boost Burn My Fat – 5 active ingredients for you that wants to boost your weight loss. In addtion, also enhance your body fat metabolism, and maintain a normal energy metabolism.
YERBA MATE* – known as the herb "send from the gods" that produces caffeine. The Yerba Mate herb's properties contributes to weight control and breakdown of fat.
KOLAT NUT – originally from the tropical rainforests in West Africa, and is a natural source of caffeine. Has a slimming effect and enhances the fat metabolism.
CAYENNE PEPPER– part of the chili pepper family. Contributes to weight control and helps you stay on track on your weight loss course.
VITAMIN C + B6 – contributes to a normal energy metabolism, the immune systems normal functions. As well as reducing fatigue and exhaustion.
You'll get a fat-degrading effect from Yerba Mate along with slimming properties from cola nut extract. Combined are they the natural sources of the high caffeine content in the Slim Boost Burn My Fat formulation. To elevate the overall effect of Slim Boost Burn My Fat, you'll get cayenne pepper extract. It belongs to the chili family and acts as a perfect support in a weight loss program. As an extra boost, you'll also get vitamin C and B6. Both contribute to normal energy-yielding metabolism, normal function of the immune system, and reduction of tiredness and fatigue.
Use Slim Boost Burn My Fat on days when you are less physically active. Due to its ability to promote the metabolism, or as part of your everyday healthy lifestyle. 5 active and proven ingredients, helps with weight control, weight loss, and fat breakdown.
*Contains caffeine (95 mg/daily dose). Not recommended for children or for those that are pregnant or breastfeeding.