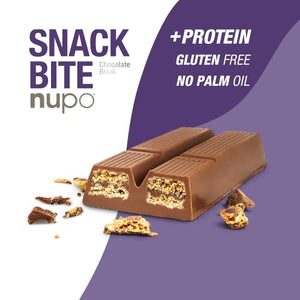 Nupo Snack Bite Chocolate Break is a guilt-free snack with crunchy wafers and soft creamy filling – with no added sugars. Not only that, Chocolate Break is fortified with whey protein and contains 86% less sugars than conventional chocolate wafers*. An ideal treat that fills exactly 113 kcal per serving (21.5g) in the calorie count. Pure pampering – guilt-free! *compared to similar conventional confectionery
Crispy wafer fingers with cocoa cream filling and protein-enriched milk chocolate coating containing maltitol. Contains sweetener.
Nupo Snack Bite Chocolate Break
… contains three chocolate breaks in each package.
… is perfect when you are in the mood for something sweet and crunchy.
… should be considered purely as a delicious snack.