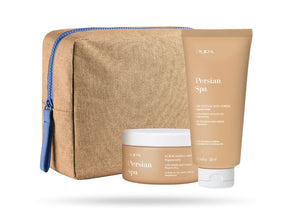 A journey to discover ancient beauty rituals from around the world. 
PUPA PERSIAN SPA treatments harness the detoxifying properties of PERSIAN BLUE SALT and the antioxidant and soothing benefits of CORNFLOWER EXTRACT, which is rich in flavonoids for a decongestant action.
ANTI-STRESS SALT SCRUB 
With Natural Salts and Persian Blue Salt in oils and detoxifying Cornflower Extract.
ANTI-STRESS SHOWER GEL 
Enriched with Persian Blue Salt and Cornflower Extract with detoxifying and soothing properties.
Use in the morning for a calming start to the day, use in the evening for a moment of relaxation.