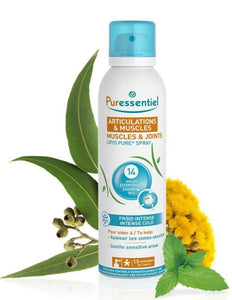 The cryo method is a traditional technique for applying cold. With its non-greasy, non-sticky formula, the Muscles & Joints Cryo Pure Spray provides a quick massage which - together with the 14 essential oils with relaxing scents, delivers effective, instant and lasting relief for sensitive areas. The multi-directional use and the easy penetration of the product enable fast application. 3 seconds per application. One 3-second application guarantees a cold effect.
✓EOBBD Essential Oils (Essential Oils Botanically and Biochemically Defined).
✓ 100% Natural origin formula - No artificial colouring - No synthetic fragrances - No mineral oils - No propellants harmful to the environment
Directions:
Shake well before use, then apply locally by spraying onto the sensitive area from a distance of approximately 15 cm (back, neck, shoulders, elbows, wrists, hands, hips, knees, thighs, calves, ankles, feet,...). Use whenever you feel the need. Maximum two applications per day.
Warnings:
For adult use only. Not to be used by pregnant or breastfeeding women. Do not use if you have a history of convulsive or epileptic disorders. Avoid contact with eyes and mucous membranes. Wash hands after use. External use only.