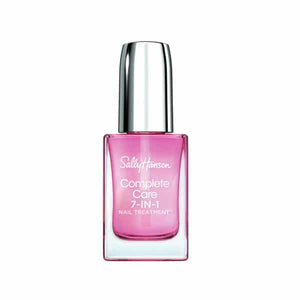 SALLY HANSEN COMPLETE CARE 7-IN-1 NAIL TREATMENT™ is an all-in-one base and top coat, growth, strengthener, ridge-filler, brightener, and ultra-moisturizing nail care. Get Strong, healthier-looking nails in just 3 days!
When you want help reviving dry, brittle nails, turn to Complete Care 7-in-1 Nail Treatment™. Our patented formula combines Avocado Oil, Sea Salt, Pomegranate Extract and Calcium to help restore nails' strength, moisture and natural brightness.
As a base coat, apply one coat to bare nails. Or use it as a long-wearing top coat by applying over nail colour.